Reliable & High Quality Technologies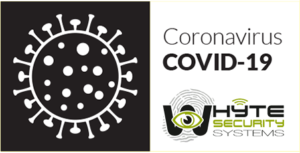 Explore Our Covid-19 Solutions
Covid-19 has left a lasting impact on how we communicate, do business & provide security. We have worked hard to bring a selection of Covid-19 solutions to the market, including fever heat detection cameras, contactless buttons, and smart doorbells.
We've got a wide range of Temperature Screening Thermal Solutions which can detect elevated skin-surface temperature. These systems are extremely efficient & offer one-second detection – and offer non-contact measurement.
It is important to be proactive with the safety of your customers & employees in light of Covid-19 and these multi-person detection tools will help identify those who may be ill/carrying a virus.
A study done by WebMD revealed that 'infected' co-workers spread a virus to 50% of workplace surfaces within 4 hours of arriving to work, and thanks to the shared contact with these surfaces – half of their co-workers became infected.We've added a huge range of contactless buttons to our services to mitigate the risk of a virus spreading via a shared surface, from doorbells, to microwaves & more.

We're excited to be providing the best in-class WiFi doorbell as part of our latest products. Unlike most WiFi doorbells – our selection have no on-going fees & are head and shoulders above the rest on the market.
These are perfect to avoid contact when answering a door or opening a gate but also are incredible for security as they have multiple features such as answering the door through your phone, seeing who it is, and calling for help.